Give your wood deck its luster back with a quality deck staining service in Durham County, Orange County, And Surrounding Areas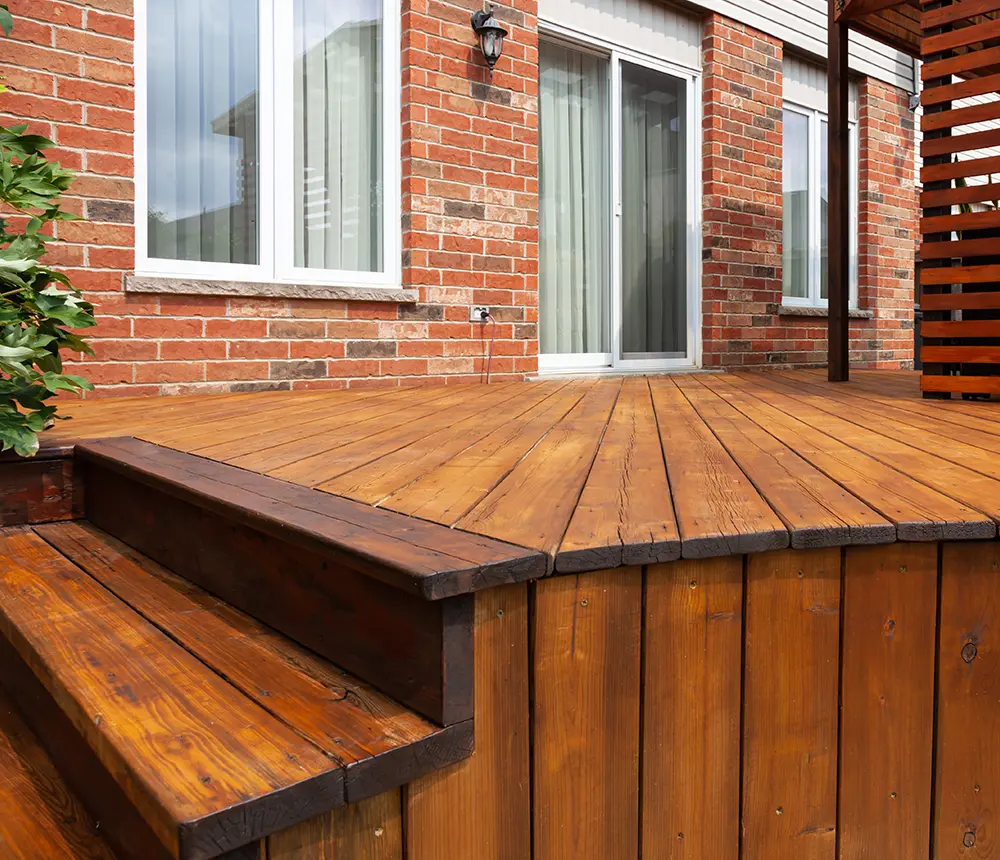 Scroll down to discover deck staining options, process, and pricing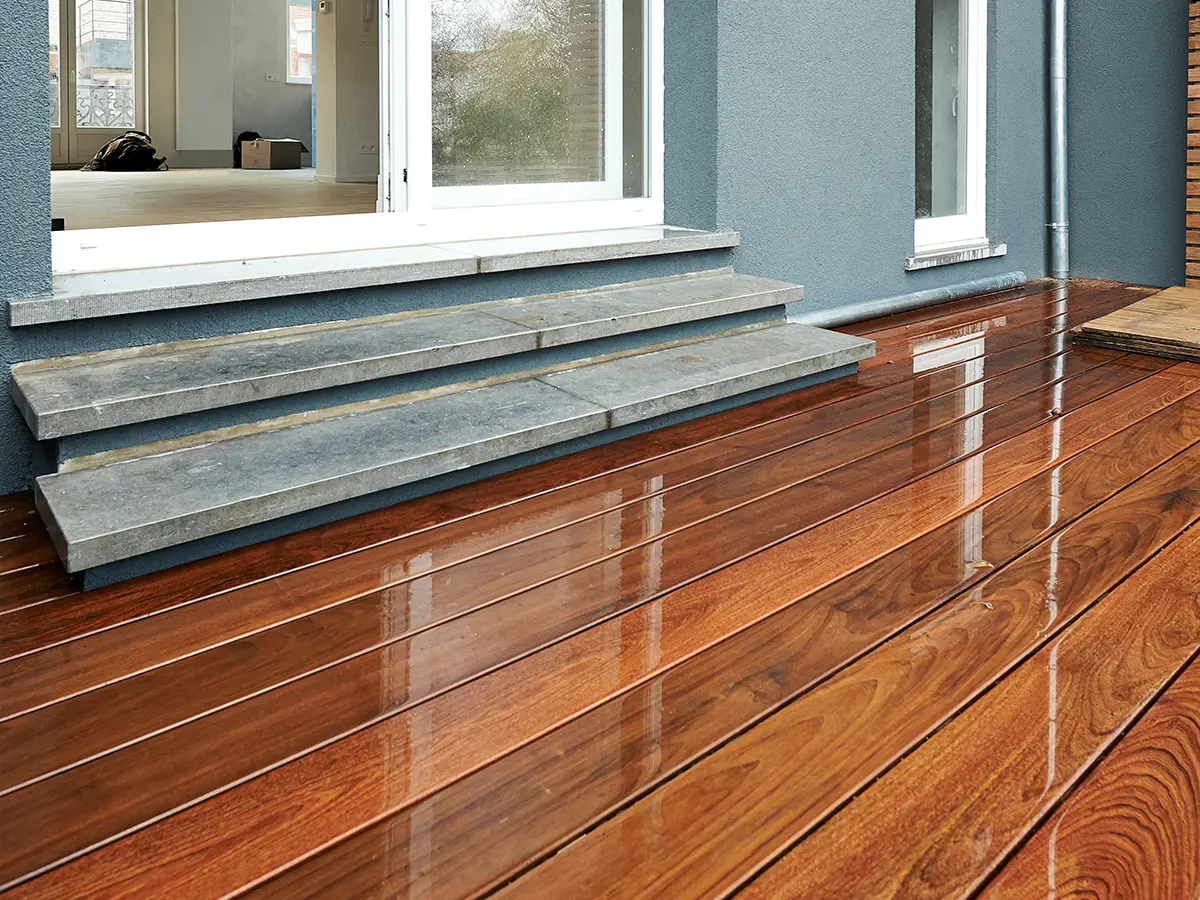 Completely Transform Your Deck With A Quick And Efficient Deck Staining Project
Your deck is out in the open from day one, facing rain, sun, snow, and insects. With time, the natural hue of the wood starts fading, making your wood deck look old and uncared for.
The quickest, most efficient way to ensure your deck keeps its luster throughout its lifespan is to stain it regularly.
This way, you're maximizing its lifespan by protecting it from the elements but also keeping it in tip-top shape.
Our complete deck staining service includes:
Bring Your Deck Back To Its Prime With A Quality Deck Stain
Deck Staining Frequently Asked Questions
We prefer Cabot stain or Behr stain, as these are two of the most cost-effective options in the market right now. They're oil-based stains that penetrate deep into the wood to give it maximum protection against the elements, all while bringing back the wood's natural color.
We usually take about 4 days to finish most deck staining projects. It takes one day to prep the surface (sanding, pressure washing, cleaning, etc.), another day to apply the first coat of stain, one day to allow the first coat to dry out, and another day to apply our second coat of stain. After the second coat, let the stain dry for another 24 hours, and then you can safely use your deck.
Generally, it's better to stain your deck rather than paint it. The stains we use are oil-modified stains that are designed to be absorbed into the wood and stop water from seeping in. Paints are too thick to penetrate the wood and they'll just cover the surface. Eventually, paint will start peeling off because of the high foot traffic, leaving your deck exposed.
Staining a 200 square feet screened-in porch or deck costs anywhere from $1,600 to $2,500. However, if you choose to go from an existing solid stain to a semi-transparent stain, the cost will increase because it's a more labor-intensive process. E.g., we'll need to prep the surface and sand it thoroughly before applying any other stain on the surface.
Deck staining or sealing is part of the maintenance of your deck, and you should do it at least once every 2 – 3 years, depending on how your deck is holding up. You should do it right after spring starts, when it gets warm enough to spend time outdoors on your deck.
Warranting a deck stain is very difficult, especially on surfaces like decks that get stepped on a lot. If you have dogs running around, it's even more difficult. However, we offer a limited workmanship warranty that'll cover the same period as the stain's manufacturer warranty.
Your Price Guideline For Deck Staining in NC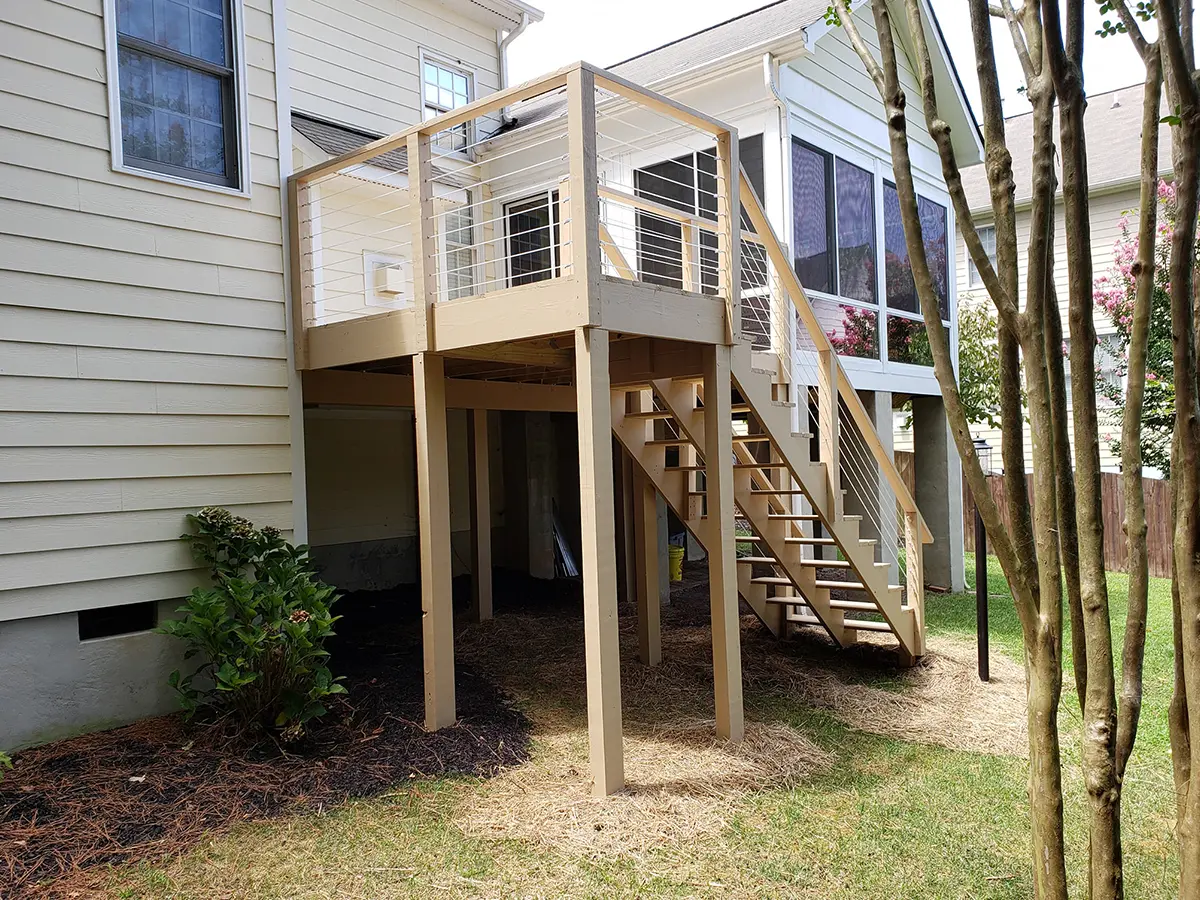 Staining Deck With Staircase In Durham, NC
This 100 ft². deck staining project included:
This deck staining project was quoted at $2,500.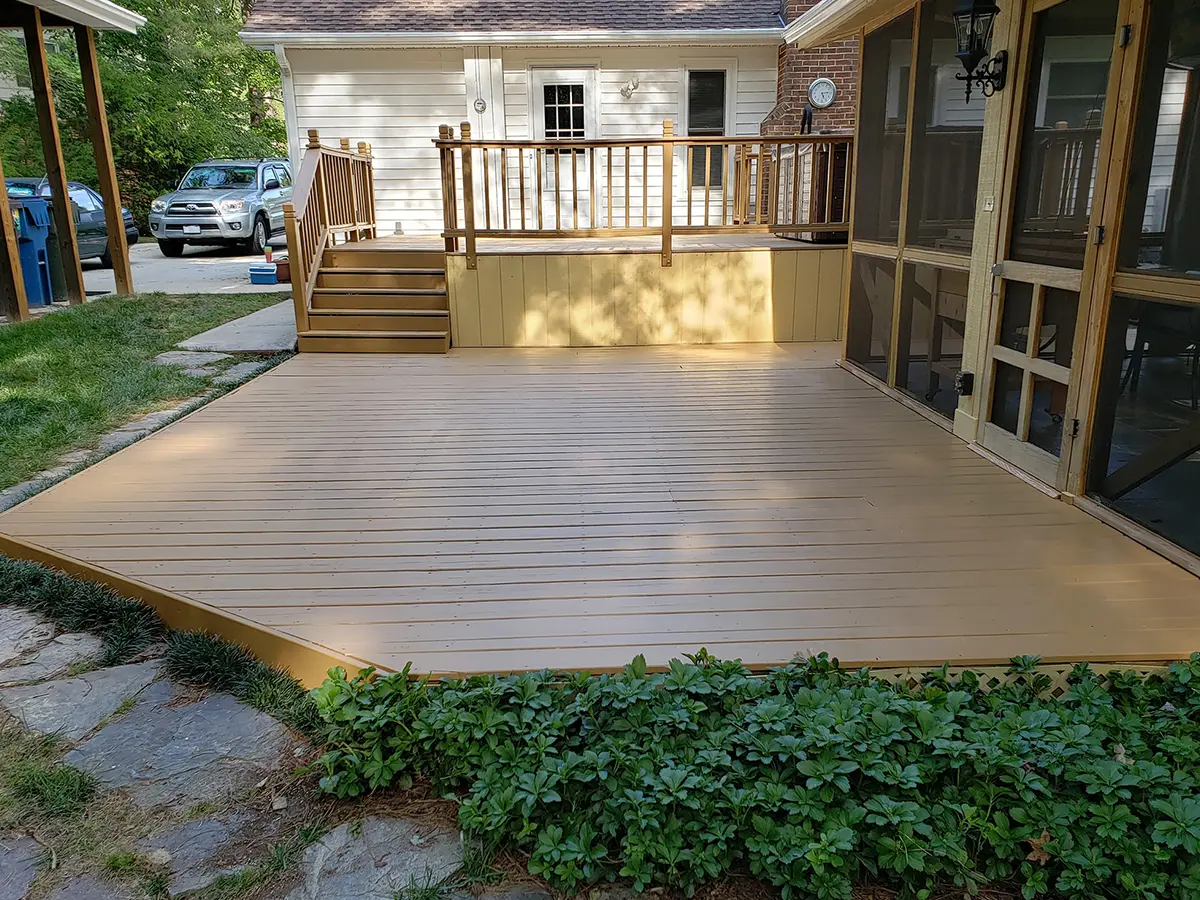 Two-level Deck Stain in Cary, NC
This 300 ft². deck staining project included:
This two-tone deck staining project was quoted at $3,500.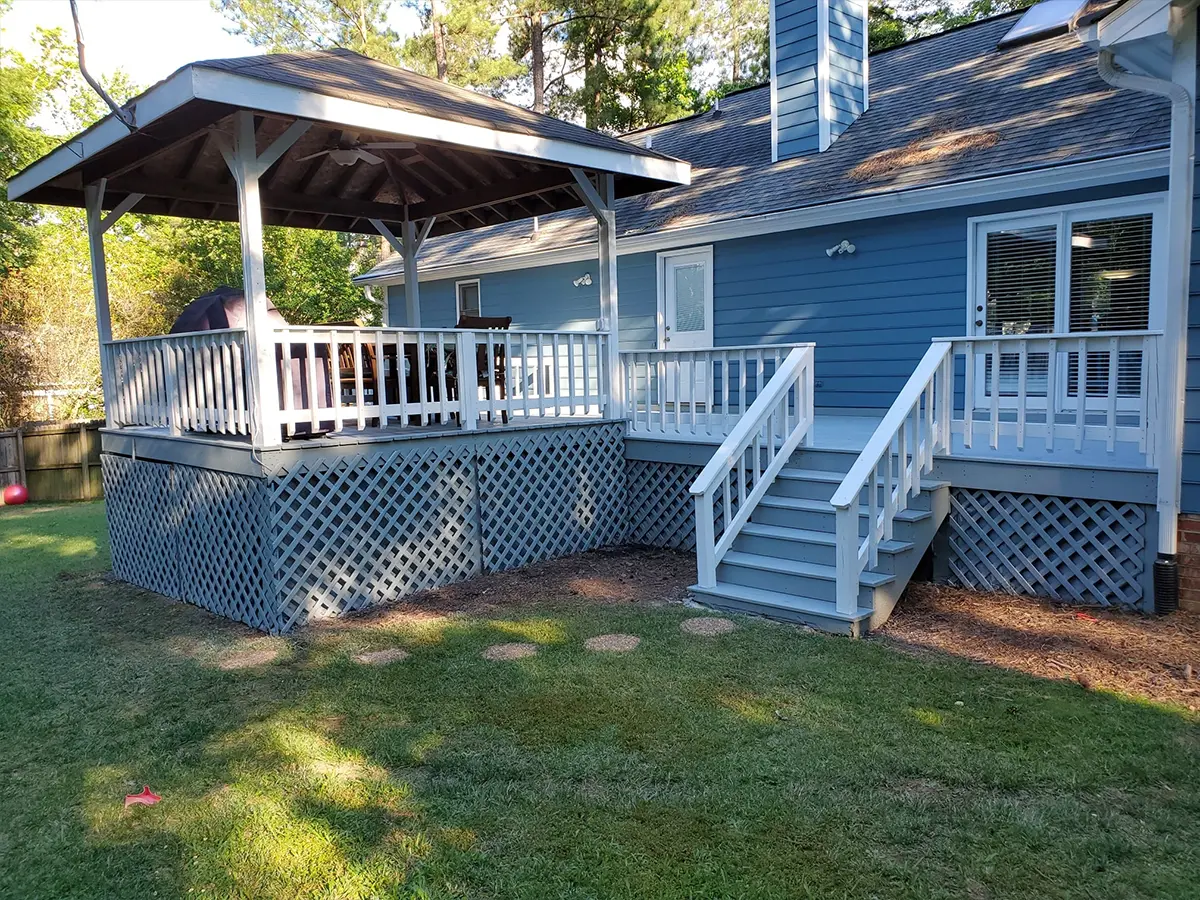 Repair, stain, and paint covered deck in Apex, NC
This 300 ft². deck painting and staining project included:
This deck paint and stain project was quoted at $9,900k.
A Deck Staining Process That Simply Flows
Fully enjoy the excitement of making your deck look good again with a simple and highly-efficient process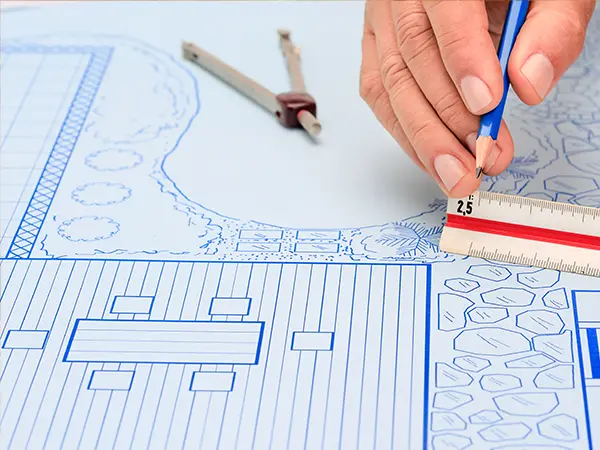 We'll help you choose a deck stain that maximizes the functionality and beauty of your wood deck.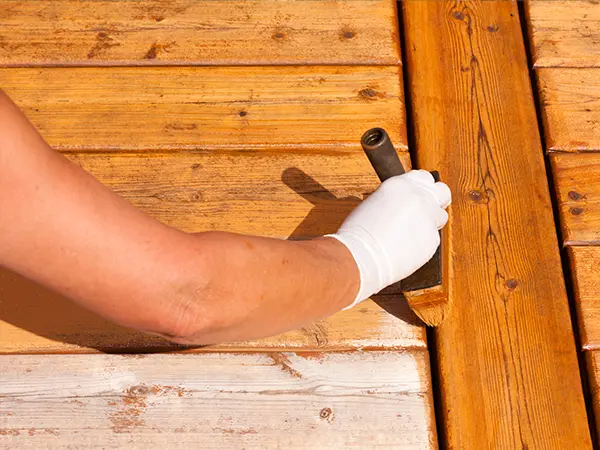 We start staining your decking surface according to the timeline and keep you in the loop at all times.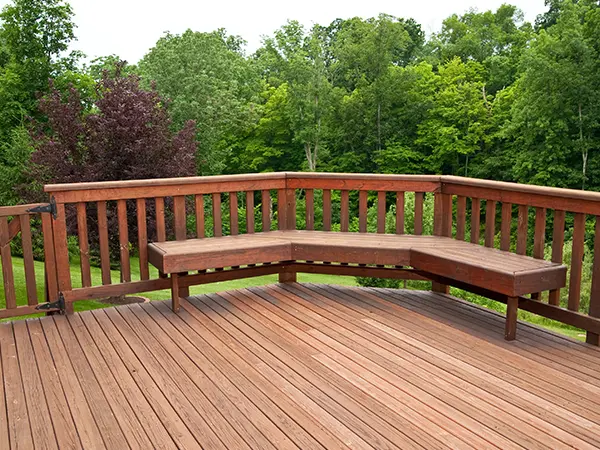 Enjoy a beautiful, durable, freshly stained deck, perfect for entertaining your guests.

We leave no stone unturned, especially when it comes to backing up our service. We've went the extra mile and even got Google to recognize our business. For you, this means working with a fully verified business – a real professional that puts his reputation at stake. For us, it means we're fully committed to delivering the highest-quality craftsmanship you can possibly get.
A deck that always looks pristine
Here's Why Your Neighbors Want Us On Their Projects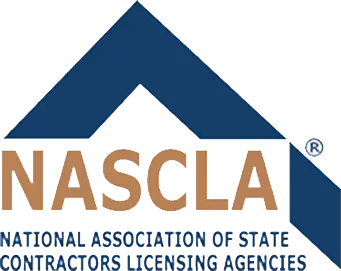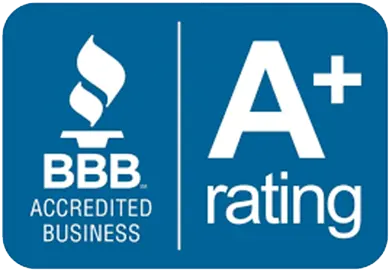 We hired Fiferum Construction this past summer to stain our deck and back stoop and build stairs leading onto the deck. Chelsea and Alex were very communicative and always responded promptly. The stain on the deck turned out great and has held up beautifully so far (5 months later).
They were also great about coming back out to fix an issue we noticed long after the work was complete– the new deck steps had rendered the spigot inaccessible but Alex was able to quickly relocate the spigot and made the necessary stain touch ups to the steps.
We did learn one lesson from our experience– never trust the online color swatches when choosing a stain color! We were trying to match the existing brown and black stain on the deck and the closest Cabot equivalents turned out green and blue! From now on I will always ask for actual sample pots of stain to test the colors before purchasing the full amount.
Fiferum Construction replaced multiple damaged posts holding up our large deck and screened-in porch.
They also stained our deck, front porch and an area off of our basement. From the first contact, they were incredibly responsive and professional.
They showed up when they said that they would and also kept me updated on the work, the timeline and every step along the way.
We've worked with several builders and contractors over the years and this was by far the best experience.
In addition, the quality of work and care taken during the job far exceeded our expectations.
I highly recommend Fiferum and intend to use them again for any other work we need to have done in the future!
We've hired Fiferum for several projects and plan to use them for any future needs.
They fixed our bathroom floor after it was damaged by a leaky toilet, replaced stairs and boards on our deck and stained it, replace a wall of siding and painted, and cleaned up some mistakes left by other contractors we've used in the past.
They do a fantastic job from the estimate, to scheduling and communication, to the actual work and clean up. 
They are trustworthy, reliable and stay on budget. I highly recommend.
Have All Your Needs And Wants Taken Care Of
Work with a trustworthy contractor that makes you his #1 priority.
Take Your Deck Staining Project A Step Further With These Perks
You'll get the highest quality craftsmanship from a professional that truly values you, your time, and your investment. This deck staining service is bound to make your deck look sleek once again.
Stay relaxed and confident that your deck staining project will be complete when we say it will. We take pride in being on time and on budget, so you can enjoy a freshly-stained deck in time.
Sit back and relax as we take care of everything. After preparing your deck and protecting your backyard, we get to work using the highest-quality stains for a finished deck that will last for years.
Tackle Your Deck Maintenace And Aesthetics With A Complete Staining Service