Radically transform your deck with a complete and quality deck painting service in Durham County, Orange County, And Surrounding Areas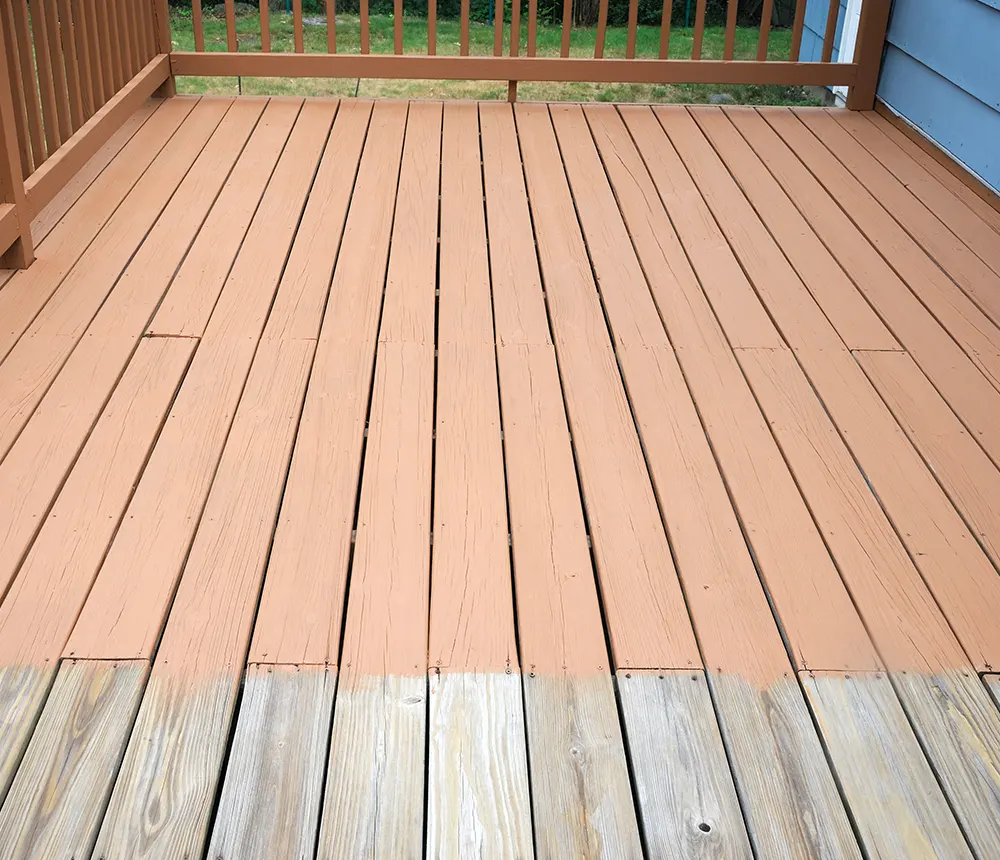 Scroll down to discover deck painting options, process, and pricing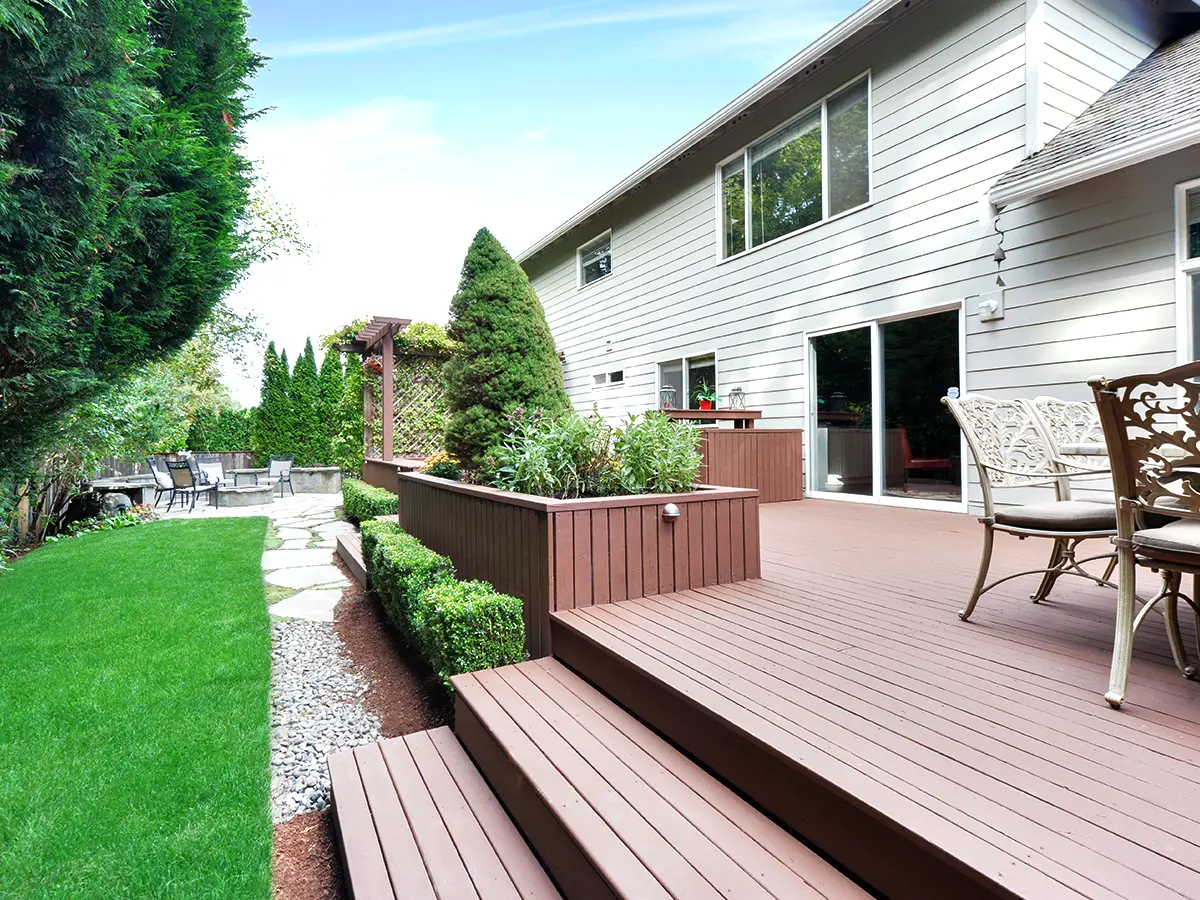 Bring A Unique Vibe To Your Deck With A Fresh Coat Of Paint
Wood decks are famous for their beautiful color and grain, but after years and years of heavy use, you might want a change of style without completely replacing the deck.
Deck painting is an efficient and quick way to bring a more unique vibe to your outdoor space – without digging into your savings.
Start a transformative deck painting project and watch your deck become a seamless bridge between your home and your outdoor living space!
Our complete deck painting service includes:
Here's How Your Deck Can Look
Common Deck Painting Questions
For horizontal surfaces like a deck's floorboards, we prefer Sherwin Williams Porch & Floor Enamel. Enamel dries hard, making it much better for a surface with such high foot traffic. For exterior walls, ceilings, or any other vertical surfaces, we prefer Sherwin Williams Duration or Emerald Rain Refresh because of how easy it is to maintain.
Similar to deck staining, we like to budget between 4 to 5 days for deck painting, depending on how many coats of paint we'll need. Surface preparation will take one day, and we'll have to account for the drying time as well. You'll get an accurate timeline after we see the scope of work on our on-site visit.
After we apply the last coat of paint, you'll want to stay off the deck for another 24 – 48 hours, depending on the manufacturer's recommendation.
Just like staining, painting a 200 square feet screened-in porch or deck costs anywhere from $1,600 to $2,4000. This varies depending on the type of paint you want to use, the complexity of your decking surface, and whatever features of your deck you want to paint (e.g. handrails, built-in seating, balustrade, stairs, etc.)
Deck painting has little to do with its maintenance and more to do with its aesthetics, so there's no rule of thumb as to how frequently you need to paint it.
In other words, paint your deck the moment you want to change its color.
If the paint is applied correctly and on a surface that's been prepared thoroughly, paint is said to last for up to 5 years before you see it peeling or flaking.
Supposedly, semi-transparent paint lasts for 1 to 3 years, semi-solid paint lasts for 3 to 5 years, and solid paint lasts for 5 to 8 years. However, we've rarely seen paint that lasted longer than two years simply because the deck steps and floors wear out quickly, especially out in the elements.
Your Pricing Guideline For Deck Painting in North Carolina
Before
After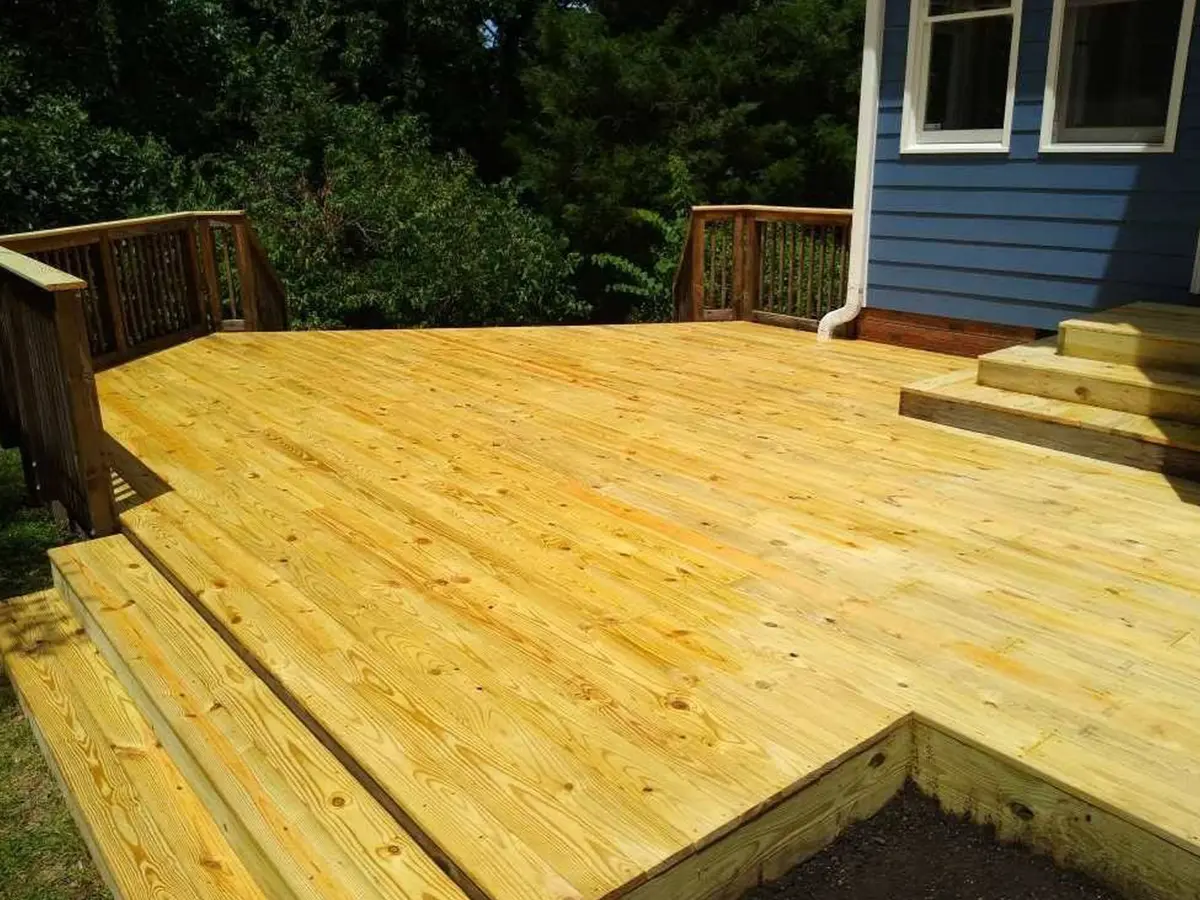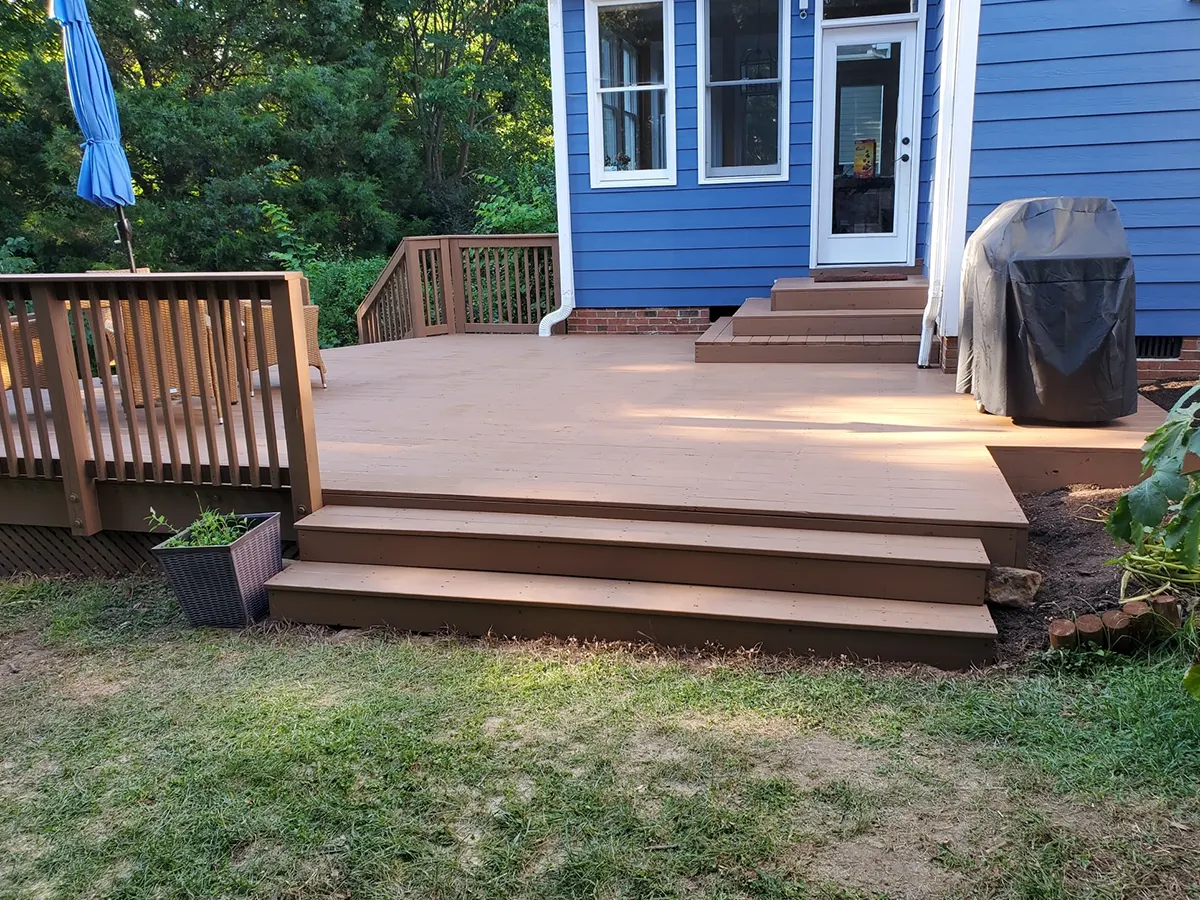 Deck repair And Paint in Cary, NC
This 300 ft². deck repair and paint project included:
This deck repair project was over $13k, with the painting and touch-ups being $2,500.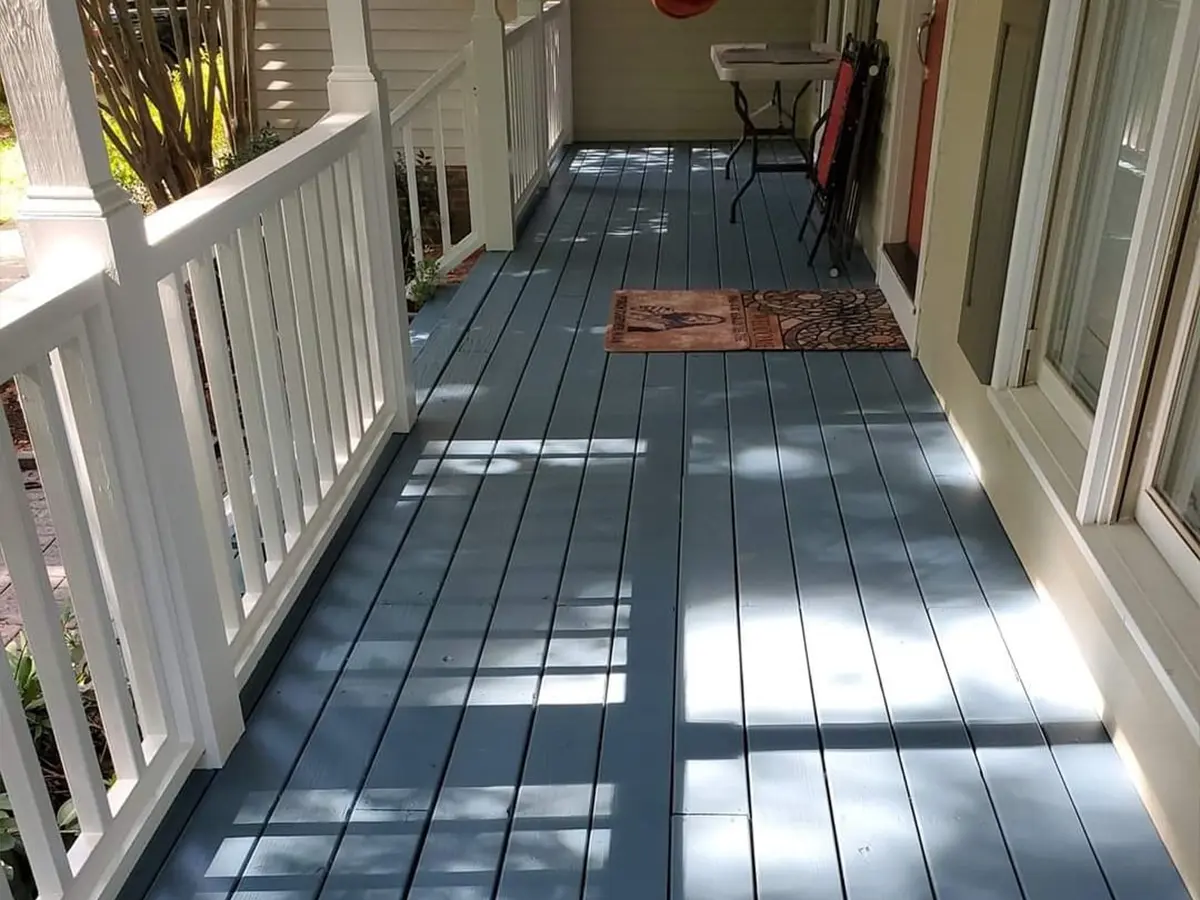 Porch Painting In Durham, NC
This 150 ft². porch painting project included:
This porch painting project was quoted at $4,500.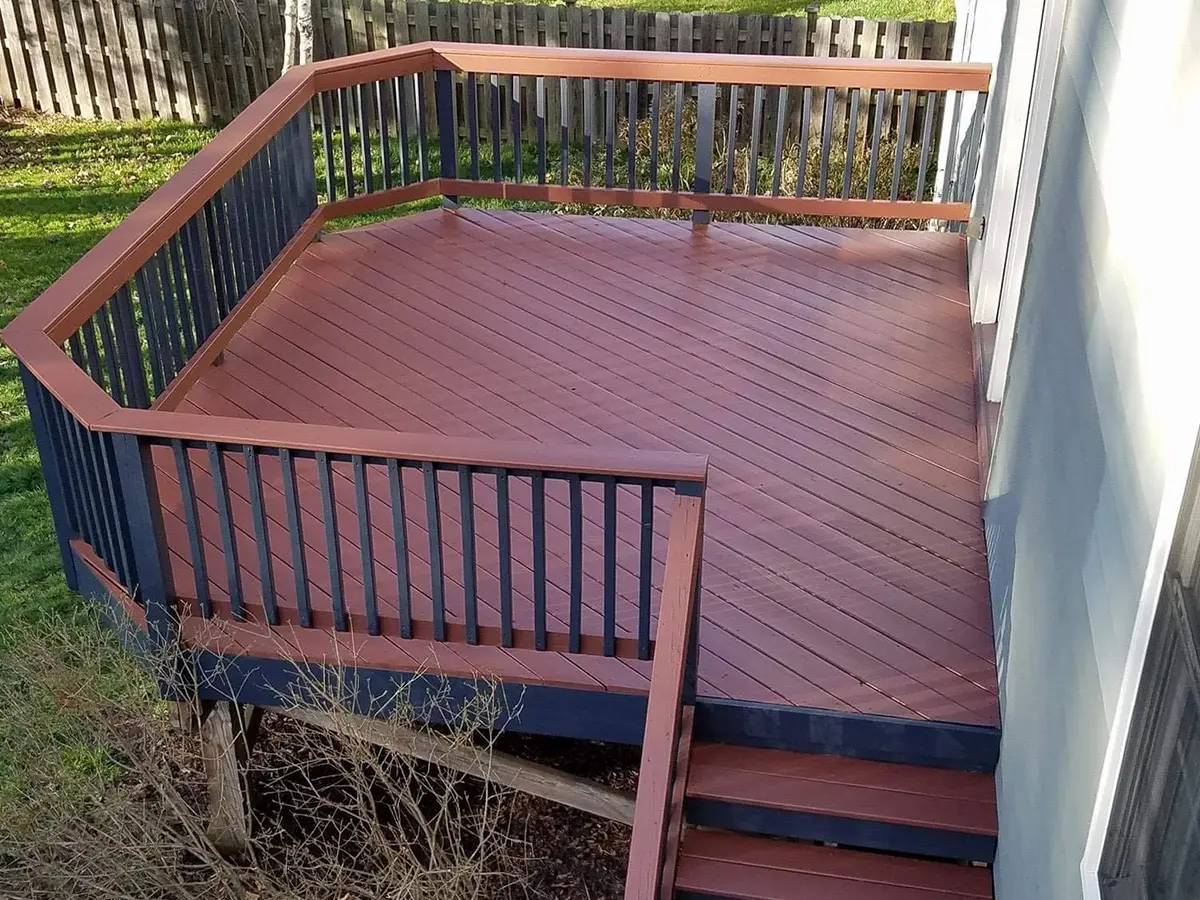 Two-Tone Deck Paint & Stain in Durham, NC
This 150 ft². deck painting project included:
This two-color paint and stain project was quoted at $5,500.
Deck Painting – As Easy As It Gets
Enjoy an easy painting process that minimizes any disruptions in your day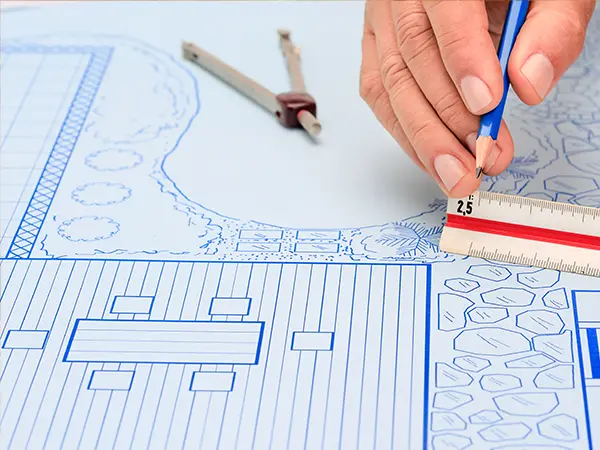 We'll help you choose a deck paint and color that creates a seamless transition from your home to your outdoor space.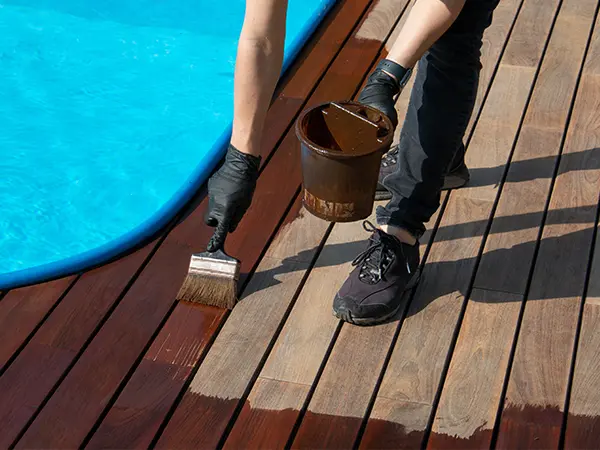 We start painting your deck according to our initial plan. We'll only paint what you want us to paint, protecting everything else.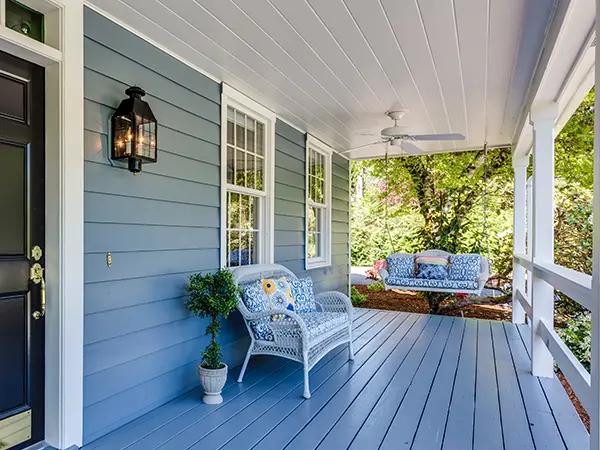 Enjoy a deck that looks brand new, thanks to a high-detail deck painting job that transforms your outdoors.

We leave no stone unturned, especially when it comes to backing up our service. We've went the extra mile and even got Google to recognize our business. For you, this means working with a fully verified business – a real professional that puts his reputation at stake. For us, it means we're fully committed to delivering the highest-quality craftsmanship you can possibly get.
Homeowners Like You Recommed Us
See What Your Neighbors Say About Us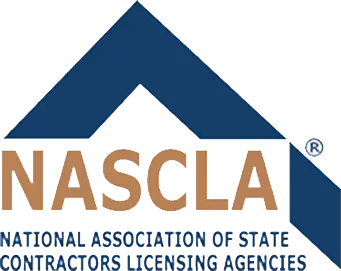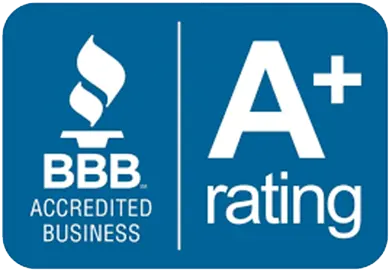 We hired Fiferum to replace gutters, do some carpentry repairs, replace outdoor light fixtures, and paint the exterior of our 1960s ranch.
We were nervous because previous owners hadn't done a ton of upkeep and we knew it would be a big expense. Alex and his team did a FANTASTIC job. The paint is perfect, the new gutters are great, and they meticulously repaired the glazing on our original wood windows and made them look brand-new.
Communication was good throughout the project, and they took good care of the work site. I especially appreciated how they helped us think through options of where to replace vs. repair something, give advice on paint colors, etc. We're now hiring them to install new storm windows, and will absolutely hire them next time we need to do any painting.
Fiferum does quality work that they guarantee, and they communicate at every step of the process. We previously had them paint the cedar siding on our house.
When we noted a few months later a few areas where the paint appeared to be cracking, they returned promptly to identify and fix the issue.
We hired them again to stain our deck and address water damage on some soffit and facia boards.
They did great work, and we'd hire them again in a heartbeat.
We've hired Fiferum for several projects and plan to use them for any future needs.
They fixed our bathroom floor after it was damaged by a leaky toilet, replaced stairs and boards on our deck and stained it, replace a wall of siding and painted, and cleaned up some mistakes left by other contractors we've used in the past.
They do a fantastic job from the estimate, to scheduling and communication, to the actual work and clean up. They are trustworthy, reliable and stay on budget.
I highly recommend.
Stay Confident In Your Investment By Working With A Reliable Pro
We truly care about your home, your time, and your investment
Get More Than What You're Paying For With These Perks
Have the peace of mind that if anything comes up with something we've worked on, we'll come right up and fix it for you. Your satisfaction is our #1 priority.
Take advantage of a superior deck painting service that comes at a fair and transparent price, reflective of the quality product you'll get.
Constant, honest, and transparent communication helps us determine your exact needs and helps you get precisely the deck you've envisioned all along.
Protect And Transform Your Deck With A Fresh Coat Of Paint